Everything You Wanted in a Cloud Call Center Software
It doesn't matter what channel your customer wants to reach you, and you get one view of your customer through our integrated cloud call center software platform. It can be deployed within 48 hours irrespective of the number of agents you have, and it comes with a no-contract promise. Our cloud call center platform handles 1500+ customers across 150+ countries, with more than 2 billion call volumes to date.
Let Your Customers Reach You Irrespective of Where You Are
Omnichannel Platform
With our cloud contact center omnichannel software platform, you can provide your customers with the channel of their choice to reach you. Provide your agents with a unified experience to address your customers' needs without having to create an experience–expectation gap.
No lock-in periods. No long-term contracts

We Help You Grow Stronger With Our Compliance
Compliance and Data Management
It is mandatory that your call center complies with industry regulations and standards. Our Cloud Contact Center platform provides it all. What you need, when you need it.
Keeping your customer's data safe and secure is a critical part of your call center business. How do you go about doing it?
Our contact center platform complies with regulations like TCPA, HIPAA, HL7, PCI-DSS, and FDCPA. It is made possible by following proper call center practices.
Why ClearTouch Cloud Call Center Solution
24/7 Customer Support
All the help you need, whenever you need is provided by our dedicated support team. 99% SLAs at all times, with multilingual capabilities.
No Long-Term Contracts
Only contract-free call center platform. No lock-in period. No restrictions on the number of agents. Works on a pay-as-you-go model with per minute billing.
Seamless Integrations
Smooth integration with CRM, Helpdesk, and other best-of-breed IT solutions. Comes with a bunch of pre-integrations.

The Smart Move to Data Management
Intelligence, Reporting, and Analytics
A manager in any call center spends more than 30% of productive time pulling together reports to see if it is functioning efficiently.
With our cloud contact center software platform, you can automate the entire process and free up your resources to focus on the core function of your call center. We provide reports, analytics, and intelligence that help you plan your operations. It enables you to find anomalies, trends and measure performance to ensure that real-time data is used to your greatest advantage.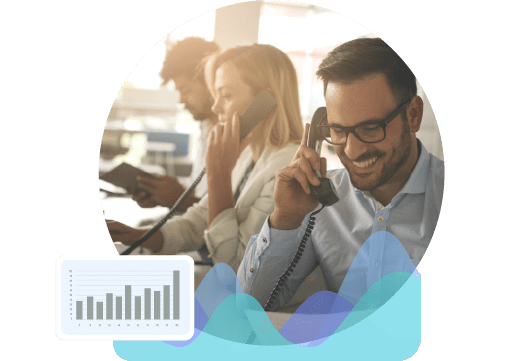 Workforce Management
Only 10% of the call centers use a Workforce Management (WFM) system, not because they don't want to use it, but because most platforms don't come with an integrated WFM solution.
Our integrated Workforce Management software provides you the insight with real-time data that allow you to:
Provide intelligent scheduling and ensure that the correct number of CSRs are available to address customer needs

Train and monitor your agents with efficiency and productivity in mind
600+ banks, financial services, insurance, and debt agencies trust us for the best call center solution.

Make the Most Out of Your Investments
Integration and Automation
What is your biggest concern when you evaluate a call center platform? You are worried about your existing investments.
Fret not. We have that covered as our cloud contact center software platform can be seamlessly integrated with your best-of-breed solutions. We already have a few pre-built integrations as well. We address all of your integration needs behind the scene while providing confidence with our flexible 24/7 customer support.
Channelize All the Moving Parts in One Direction
Imagine your inbound dialers, outbound dialers, CRM, helpdesk, bug tracking, chatbots, email, and social all integrated. Wouldn't that be the best thing for you as a business to offer delightful customer experiences from anywhere?
We bet it would be.
Add Artificial Intelligence and Machine Learning to this mix, and you are equipped with everything that a customer service and customer support function can ask for. Our platform comes with all of this.
Check how our Call Center Software fits your needs.